BMW X2 Reimport new cars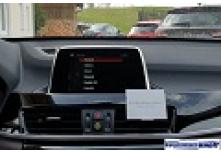 Tutorial: Spracheinstellung ändern
0:53
» up to 19,3% discount with EU Neuwagen Knott «
You may now select a model of the BMW X2 and configure your personal dream car easily online!
Seit Januar 2018 ist der X2 aus dem Hause BMW nun erhältlich. Mit diesem Modell möchten die Bayern die Lücke zwischen Coupé und SUV schließen. Bei diesem Vorgehen hat es BMW geschafft, dem SUV-Coupé ein sagenhaftes Erscheinungsbild zu verpassen – ein Rundgang um das Auto lohnt.
Von der Seite wird man schnell Zeuge einer spektakulären Silhouette und bemerkt sofort die dynamische Linienführung, die flach abfallende Dachlinie wie auch die fast schon eckigen Radläufe, die sich jedoch erstaunlich gut in das Gesamtbild einfügen. Beim Gang Richtung Heck springt einem das neu positionierte BMW Emblem auf der C-Säule sprichwörtlich ins Auge– ein echter Hingucker!
An der Frontpartie sind einerseits die sportlich anmutenden und breiten Lufteinlässe und andererseits, die erstmals bei BMW so designten Doppelnieren auffällig. Diese stehen exklusiv beim X2 auf dem Kopf, sind also nun unten breiter als oben. Beide Aspekte verleihen dem SUV-Coupé eine selbstbewusste Front.
Sie sehen: Ganz gleich für welche der vier Ausstattungsvarianten (Basis, Advantage, M Sport oder M Sport X) Sie sich entscheiden, beim X2 erhalten Sie ein einzigartiges und außergewöhnliches Auto.
Reimport des BMW X2
Trifft der neue Bayer Ihren Geschmack aber nicht Ihr Budget? Dann sollten Sie sich einmal über einen Reimport Gedanken machen. Wir können Ihnen den X2 im Vergleich zum Herstellerpreis deutlich günstiger anbieten, ohne dass Sie dabei auf etwaige Garantieansprüche verzichten müssen. Sollten Sie diesbezüglich noch Fragen haben, können Sie uns jederzeit kontaktieren.